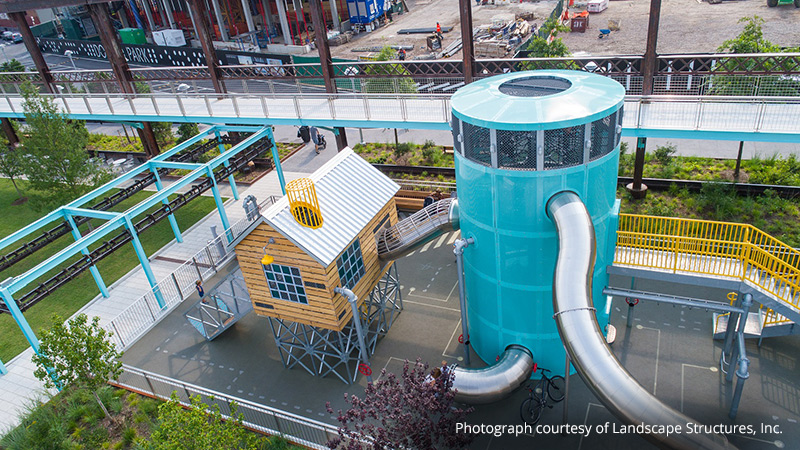 Looking for poured in place rubber?
Poured in Place Rubber is one of the best surfaces for playground sites today.
Our poured in place rubber is like none else. It meets ADA requirements and provides accessibility, is easy to maintain, and is made utilizing recycled materials to help preserve the environment. This playground surface is ideal for playgrounds of all sizes and has a very low maintenance cost othe nce installation has taken place.
The proof is in the ingredients. Our Poured in Place Rubber is a 2-layer non-toxic porous system, consisting of a basemat of 100% post-consumer recycled SBR (Styrene Butadiene Rubber) mixed with polyurethane binder and a top surface consisting of either TPV (Thermoplastic Vulcanized Rubber) or recycled post-industrial EPDM (Ethylene Propylene Diene Monomer) rubber mixed with polyurethane binder.
We promise your complete satisfaction with our Poured in Place system and we guarantee a life span of at least 7+ years.
Company Employee Installers (OSHA Certified) Only, as sub-contractors are never used.

The Benefits of Our Poured in Place Rubber
This poured in place rubber is one of the most accessible options available

Different color options available to complement playground equipment and settings. Just ask us!

Modifications to thickness available to comply with critical fall heights

Easy to clean and requires little to no maintenance

Can be installed over asphalt, concrete, or other compacted sub-base aggregate
How can we help you?
We are here to answer any questions you may have.
Contact Us Today!
Standard Colors
Standard Color/Black Blends
Standard Color Blends
Premium Colors