Playsites Vinyl is an attractive rolled vinyl flooring product that is easy to install and maintain. If you are looking for a real wood appearance without the expense, this is the best option available for you. Suitable for gymnasiums, locker rooms, yoga or aerobics studios, equipment rooms, common areas and more. Playsites Vinyl offers many options and benefits:
Available in eight smooth faux wood finishes and ten lightly textured solid colors. It is also available in a texture designed specifically for badminton courts.
Some colors require a longer lead time for manufacturing.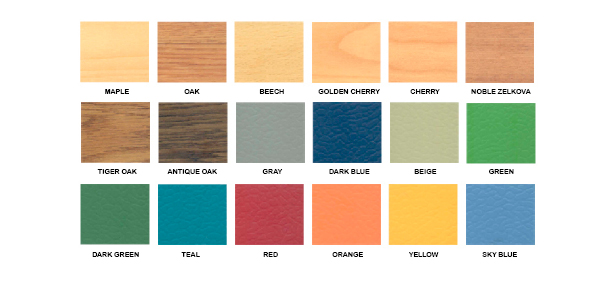 Superior shock absorption makes it a safe flooring solution for any activity or age group.
Great coefficient of friction offers optimal slip resistance.
Consistent vertical deformation enables participants to increase their on-court stability and eliminate area indentation.
Consistent ball rebound superior to that of other comparable floors. Sustains its structure under rolling loads and maintains a resistance to static load.
Depending on your sports flooring requirements, Playsites Vinyl rolled vinyl athletic flooring comes in three different size rolls:
4.5mm x 5'11" x 65'6"
6.5mm x 5'11" x 49''
8.0mm x 5'11" x 36'