Playsites Premier Play premier rubber flooring is our most durable and versatile modular sports flooring product. These ultra tough tiles are as attractive as they are strong, making them the perfect solution for weight rooms, cardiovascular rooms, aerobic rooms, common areas, swimming areas, locker rooms, rehabilitation centers, healthcare facilities, corridors, commercial buildings, and any high traffic areas. Add the optional 6mm rubber underlayment to the 3mm surface tile for extra shock and sound absorption.
Available in 9 attractive colors with decorative flecks to complement any design style.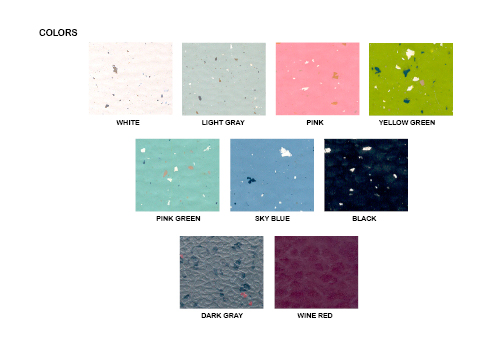 Playsites Premier Play is slip, spike, wear, chemical, and burn resistant. This means that just about any activity can be performed on this flooring without causing damage. Playsites Premier Play is shock and sound absorbent.Playsites Premier Play is made from EPDM (Ethylene Propylene Diene Monomer) and SBR (Styrene Butadiene Rubber) and meets LEED certification for use of recycled products.
Tiles are 19.7″ x 19.7″ x 3mm or 19.7″ x 19.7″ x 9mm (includes a rubber underlayment).Playsites Premier Play rubber floor tiles can either be glued to a prepared subfloor using a specially formulated adhesive for permanent applications or can be left to "float" on the existing surface. Installation is quick and easy, but our certified sports flooring experts are happy to help.
Seamless appearance creates a uniform upscale look. Sustains it's structure under rolling or static loads and handles the impact of weights and other equipment. Playsites Premier Play is spike-resistant and slip-resistant, incorporating a gentle, easy-to-clean textured surface.