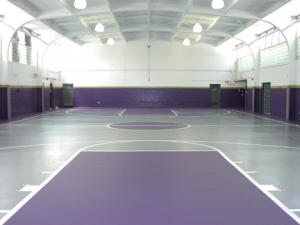 Playsites Floor is the most cost effective alternative to hardwood gym floors without compromising quality or durability. This pad and pour system creates a synthetic, seamless surface for all multi-purpose rooms including gym floors, weight rooms, indoor running tracks, locker rooms, aerobics rooms, and flooring for any area where a sturdy, seamless, shock absorbent athletic surface is required. It provides a safe environment with seamless uniformity, optimum coefficient of friction, and shock absorption. This pad and pour system offers many benefits over traditional hardwood gym floors:
Available in standard 12 surface colors and 7 line colors, with custom options so you can match your school or corporate colors. Maximize team spirit while intimidating visiting opponents with a professional graphic display of your logo and color scheme.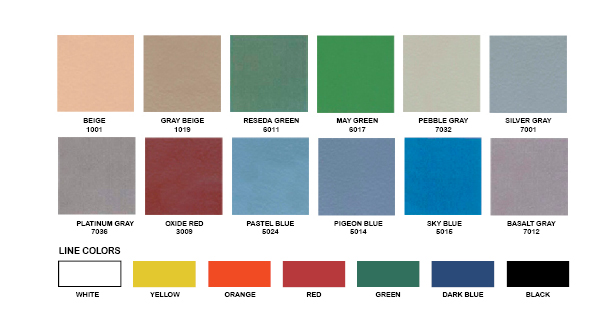 This is the last gym floor you will ever need to buy. Unlike wood, the PlaysitesFloor renewable wear surface is easily refurbished to last the life of your facility. You can easily repair damaged areas or change the colors or graphics if necessary. PlaysitesFloor allows you to use your facility for non-sporting events like dances, parties, and rallies, as it has the resiliency to stand up to many different demands including chairs, tables, non-athletic footwear, and bleachers.
PlaysitesFloor meets LEED certification requirements for use of recycled products. The shock absorbing rubber mat layer is made from 100% recycled tires. Instead of chopping down precious trees, your gym floor can help the environment by reducing landfill waste. PlaysitesFloor utilizes a seamless polyurethane structural layer that is strong, durable and free of mercury, lead and other heavy metals.
Shock absorption can be altered during the installation process to meet your specific needs. PlaysitesFloor provides a consistent system thickness for controlled performance, excellent force reduction, and comes in different thicknesses and density for different applications. PlaysitesFloor meets any application need for every age group, activity, and budget.
Our certified sports flooring expert will work with you and/or your general contractor to ensure your concrete subfloor is properly prepared. We then apply a two-component polyurethane basemat adhesive, followed by a prefabricated basemat made of recycled rubber granules pressed to a constant thickness determined by your shock absorption needs. The standard thickness for a Playsites Sports Floor Basemat is 7mm. This rubber layer is sealed with a coat of thixotropic polyurethane compound followed by a self-leveling seamless polyurethane structural coat. Next comes the fun part! The Playsites Sports Floor Top Coat is a pigmented UV and abrasion resistant polyurethane layer in the color you have chosen, topped off with colorful line paint applied to meet athletic guidelines and to suit your specific sporting needs.
"Pride and Professionalism in all phases of work"