Playsites Rubber Deck is our most durable sports flooring product and can withstand repeated battering by dropped weights. This super shock absorbent Earth-friendly flooring is made from the highest quality recycled rubber and colorful EPDM flecks.
Available in three varieties:
8mm x 48" x 59' x rolled rubber flooring.
8mm x 2' x 2' interlocking puzzle tiles.
1" x 2' x 2' square Super Tiles
Playsites RubberDeck dent-resistant flooring is perfect for any weight room or equipment room, and is also a great choice for yoga or pilates studios, children's play areas, common areas, and much more. Playsites RubberDeck is a super-durable flooring product with the most color options available on the market. PlaysitesRubberDeck rolls, puzzle tiles, and SuperTiles are available in pure black 100% recycled rubber and a wide variety of pre-fabricated mixture of recylcled black rubber and varying concentrations of colorful EPDM flecks.
You also have the option of creating a custom color mixture that perfectly complements your team or corporate colors. Unlike other athletic flooring options, custom logos and graphics are built into the floor surface for more durable, longer wear. Logos are custom designed using a state of the art water-jet cutting machine. For all custom colors and logos, contact a customer care representative for pricing and options.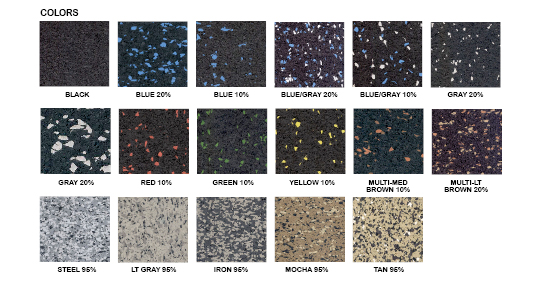 Playsites RubberDeck qualifies for LEED credits and is made from recycled goods. Playsites RubberDeck rolled rubber flooring, interlocking puzzle tiles, and SuperTiles provide superior sound and shock absorption, slip resistance, and an attractive seamless appearance. Playsites RubberDeck is easy to install, clean, and maintain, incurs very low life cycle costs, and most importantly is made in the USA.
Playsites RubberDeck SuperTile (1" tile) is 2'x2' and is designed with a super wear layer to provide unlimited design options. They contain a pedestal underside that allows you to run all your equipment cables and electrical wires under the surface. No adhesive is required, making installation quick and easy. This also allows a customer to replace tiles easily if necessary. The Playsites RubberDeck SuperTile comes in 12 standard designs and has edging available as well to go around the perimeter of the floor.