We Have a Variety of Aquaflex Flooring & Spray Parks
Spray Parks featuring AquaFlex Flooring and PebbleFlex Surfacing Systems.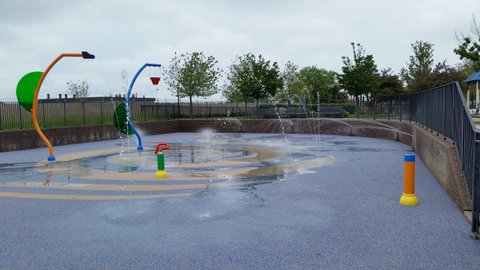 If your spray park is in need of a new surface, then consider ourAquaflexsoft safety surface and Aquafelx flooring. Its proprietary formulation, aliphatic thermoplastic urethane polymer, gives the surface a long life. This durable, breakthrough technology is
•
Resilient
to
sun damage
•
Better compacted, giving it a longer life span
Composition of Aquaflex Flooring & Products
AquaFlex is a soft safety surface. It is a breakthrough technology – UV light stable, tightly bonded, aliphatic thermoplastic urethane polymer. It is processed into spheres for better compaction and strong chemical bonding. Its proprietary formulation gives the surface a long life. Because it does not degrade in sunlight and due to its bonding, AquaFlex provides excellent resurfacing properties.
Softer and Safer
AquaFlex flooring provides soft, slip-resistant surfaces while being less abrasive than your alternatives. They are also cooler underfoot and can be installed to comply with ADA and CPSC safety guidelines. Most importantly, our systems will retain their safety resilience over time due to their strength and UV stability.
Doesn't Fade or Discolor
Playgrounds and water play areas call for lively vibrant UV light stable colors, logos and patterns. AquaFlex and PebbleFlex colors range from subtle to kiddie colorful. You can see the life that bright colors and blends add to your play surfaces.
Cooler Underfoot and Skid Resistant
AquaFlex with its lighter shades can be designed to be cooler underfoot to avoid those burning feet on hot days. In addition it can be installed with your desired amount of slip resistance to avoid those slips and falls which are so common on pool decks and around water play areas.
Totally Maintainable and Cleanable
The strength of our systems allow you to clean and maintain them by power washing using up to 1500 psi. Dramatically lower maintenance costs result from the combination of our product life and tolerance of rigorous cleaning when needed.
Durable and Long Lasting
Our systems don't shred and clog your water filtration systems In addition with their chlorine resistance, they virtually eliminate your worries of chlorine induced deterioration. Other soft surfaces systems get brittle and crack and may need complete replacement annually. Our three year Warranties give you the comfort of knowing your system will last.
Environmentally Friendly
The cushion layers used in AquaFlex and PebbleFlex safety surface implementations are made from 100% recyled materials. The pebbles are composed of aliphatic thermoplastic. AquaFlex and PebbleFlex systems are made up of Primer, Binder, and Pebbles.